Music can have a powerful impact. Think back to the great experience you had at a concert by your favorite band, or the nostalgia you felt when you heard a very popular record from high school. Or suppressing the urge to dance to your favorite song while shopping.
Nothing is more recognizable than the music that echoes through a food court or a bakery. Music communicates with the soul. It's part of what makes music so calming and helps you relax, cheer you on when you're running, and even help you focus at work or school.
Thanks to science, this range of mood changes isn't just anecdotal. Listening to music can have real benefits for you, including a direct link between music and stress relief. Understanding the chemical reactions in the brain associated with sound is the key to unlocking the calming effects of music. Even if you already know the power of music, now you can use sound science to unlock it.
How Sound Resonates With Your Emotions
Sound waves act on hearing, which is one of your five primary senses (scientifically known as auditory). Hearing is intrinsically linked to many physiological responses in your body.
Your ear drums pick up sounds from a variety of sources, such as birds chirping, a friend's voice on your cell phone, the chime of an oven timer or a playlist that speeds up the pace of your workout. The brain converts these sound waves into electrochemical neural signals – that's where sound really hits home.
Sharp noises stimulate your brain to release cortisol, which accelerates your heart rhythm and triggers the fight-or-flight response. Familiar or unfamiliar sounds trigger different chemical reactions, and your brain and body respond accordingly. While the auditory system was once vital to survival, this now so well-developed system is even more useful in communication.
So, how does music relieve stress? Scientific evidence shows that music can work on your body just like any other sound. Rhythms, beats and audio samples often mimic nature, and the power of sound travels through analog and digital means. Your ears send signals to your brain to generate dopamine, whether it's Johnny Cash's bass or your favorite uncle telling jokes.
Depending on the track, songs can affect.
Dopamine, dehydroepiandrosterone, cortisol and other hormone levels
Heart rate, respiratory rate and blood pressure
Psychobiological stress system
Self-perceived stress levels and emotions
Post-task physical and mental recovery
Alertness and energy levels
With such a range of physical and chemical effects, there is no doubt that there is a strong link between music and stress relief. Many of these are the same chemicals associated with emotions, making music among the effective ways to master them.
Regulate Stress With Music Beats
It turns out that taste has a lot to do with it. The same piece of music affects listeners differently, depending on their listening tendencies, the music they listened to growing up, and the context attached to the music. Perception is a strong indicator of how sound affects people. It's similar to how your experience shapes the brain's unique wiring. So if you don't like folk music, don't be ashamed to turn off nasal-heavy choruses.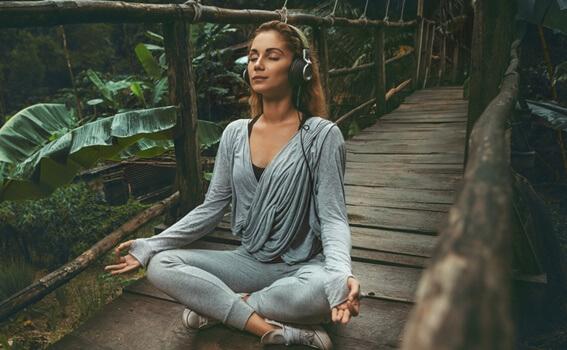 Before you look at how music beats affect stress, there are other predictors of how a song will affect you – whether it's funky or bland, appropriate for studying or a party anthem. Major keys are usually associated with happy, unexpected, popular songs, while minor keys are more like sad, complex, and dissonant. The same applies to speech and vocal music.
The tempo of a song also has a lot to do with its potential stress-relieving effect. Each section of music is measured in beats per minute (BPM). Songs range from a very slow 35-45 BPM up to a heart-pounding 200 BPM. for your reference, the average beat of a pop song is about 116 BPM, 120 is usually considered the optimal tempo for a pop song.
Studies have shown that listening to music at any tempo you can't stand can be a disaster. But listening to your favorite artist or album will allow you to experience the calming power of sound. The slower the song, the more likely you are to breathe more deeply, drop your blood pressure and lower your heart rate. Fast-paced music has the opposite effect – it speeds up your vitals and stimulates you to move.
When it comes to your favorite music, set aside some time this week to ignore your community tweets, close your eyes and listen to your favorite albums. Listening mindfully allows you to experience each song as the artist intended you to experience it, and it's also a great opportunity for meditation.
Music for Different Occasions – To Relieve Stress or Lift the Spirits
The inextricable link between music and stress relief allows you to use sound to create productive rhythms for different goals throughout the day. Whether you're revising for an exam, exercising and working out, or getting ready for bed – you just need the right range of BPM.
Get up for a new day
Many people set their alarm clock bell to their favorite dance song – and it's the right thing to do in the morning. It's a good idea to wake up each day listening to an upbeat pop tune around 120 BPM.
Work up a sweat
There's nothing like a personalized fitness playlist to get your blood pumping. Workouts vary in intensity and duration, so arrange a series of more weighted, upbeat tracks between 120-160 BPM. The more moves, the faster the tempo.
Eco-friendly commute
The average person takes 120 steps per minute. Music in this range will help you maintain your pace on hills and bumps. The same pace needs to be maintained on a bike – unless you're riding against the wind, which means 160-180 BPM or more.
Stay in shape
Just like musical taste, finding a creative flow state varies from person to person. playing an instrument between 50-80 BPM is the ideal range for studying, working or reading. In this range, your brain will get into a productive rhythm.
Success is brewing
Again, we recommend 120 BPM as the perfect tempo for your dining experience – if the tempo picks up, you'll gobble it up. The real key to pairing food and music is context. Find a track that fits the mood of the meal.
Take a deep breath
Just like the flow of creativity, soft tunes between 50-80 BPM can lead to a meditative state. Find instrumentation that relaxes you. Clear your mind and focus on breathing regularly to slow down your thoughts.
Sweet Dreams
Music around 60 BPM stimulates alpha brain waves – 45 minutes of listening is perfect for relaxing and falling asleep. De-stress with the right music and enjoy a relaxing, stress-free sleep.